In honor of college classes starting again on the 24th, I thought I'd rewind to last semester, to my favorite class that I've ever taken since starting college: International Film. It was such a fun, eye-opening, intriguing experience. I learned so much about the world, individual cultures, history, film style and technique, symbolism, specific directors and actors, different film industries around the planet, and the way that films/the industry affect society.  I also gained a huge appreciation for Bollywood films & music during our study of India & a documentary about Bollywood. I would LOVE to take another class like this again, but it's back to movie making for me this semester! These are the films that we watched... some I could watch over & over again, and others I could have lived without EVER seeing.
1. From France: 
Amélie
. This movie has easily become one of my favourite films of all time. I had already seen it before my class, but loved it even more the second time!

Amélie was filmed in 2001. Audrey Tautou plays a shy, but whimsical waitress in Montmartre who decides to impact the lives of those around her, including random strangers, as she struggles with loneliness and isolation.

The filming style/color is breathtaking and the story is so quirky. I am enamored with the character's wild imagination & the ability of Jean-Pierre Jeunet to bring such a colorful plot to life! There are so many sub-plots and small, beautiful moments and I find it hard to stop smiling while watching this movie. There are a couple of scandalous moments thrown in, but this film is so glorious, that these few short scenes should not deter you from watching. It is a phenomenon and hands down my favorite film of the semester!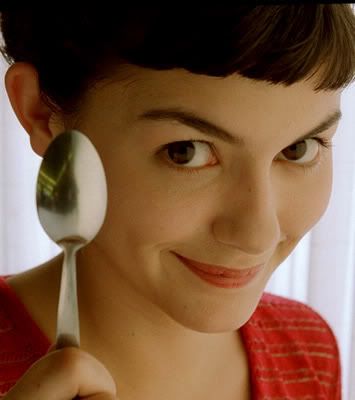 2. From Italy:
Bicycle Thieves
. LOVED this movie. This Italian neorealist film was filmed by 
Vittorio De Sica
 in 1948 and surprisingly was one of my absolute favourite movies that we watched this semester. The story is marvelous, but sad; it takes place in the post- WWII depressed economy of Italy and is a tale of survival, the relationship of a father and his young son, and the realization that when faced with desperation, all humans are capable of dastardly deeds.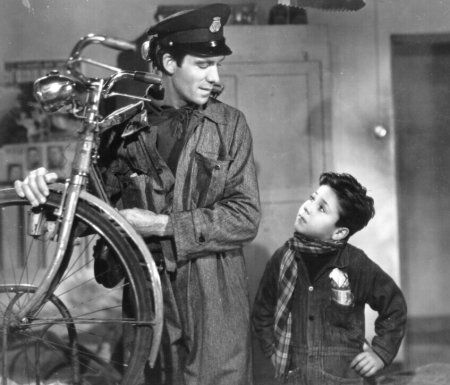 3. From Germany:
T

he Lives of Others.

 INTENSE. One of those "I'm on the edge of my seat" movies. Very captivating and extremely interesting! Director 

Florian Henckel von Donnersmarck

 says the theme of the movie is "Change and the capacity of people to change." The German secret police, The Stasi, monitor, spy, and use surveillance, on those of the cultural scene in East Berlin who might have pro-Western Sympathies. This takes place in 1984, during the reign of the socialist regime. For me, the characters made this movie. Each one of them was strong in their own way. All the little moments are important. The tiny pieces accumulate and finally coalesce in the end to paint the big picture. 
4.
From Soviet Union/Russia:
Battleship Potemkin
. Filmed by 
Sergei Eisenstein in 1925, this
 was my
least favourite movie of the class, plot-wise. It was a silent film, the oldest movie we watched. The film tells the tale of a 1905 mutiny that occured when the crew of the Russian battleship
Potemkin
rebelled against the oppressive officers of the Tsarist regime. It as known as one of the most influential propaganda films of all time. I am fascinated by the fact that we can watch footage from almost a century ago and so blown away at how film/photography allows us to capture moments in time. I imagine the people in these old films, and what they were like in real life; humans, with the same thoughts, feelings, dreams, from another century, forever encapsulated on film. Imagine people 90 years from now,watching the movies we've made... wow.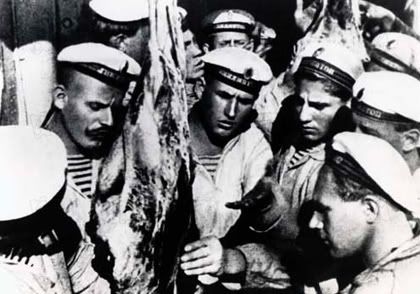 5.
From Denmark:
The Passion of Joan of Arc.

This is one of the most moving movies i've seen...ever. Another older film, directed by 
Carl Theodor Dreyer in 1928, this is 
definitely a masterpiece. It is silent, with captions that explain the plot and dictate what the characters are saying as the movie unfolds. Background music has since been added, although Dreyer intended it to be watched in complete silence. This one, may be challenging for those who are really not into slow, thoughtful films, but Maria Falconetti's portrayal of Joan of Arc is considered one of the greatest performances ever recorded on film. There are alot of parallels to Christ's trial and death. The whole movie is filmed in close-up shots of the actors' faces to place emphasis on their expressions. It is a very powerful experience and is still emblazoned on my mind months later. 
Fun Fact: The original version of the film was lost for decades after the master negative was destroyed in a fire. Dreyer died, thinking his original cut was lost forever, but in 1981 it was discovered in a janitor's closet in an Oslo mental institution. This is the version that is available on DVD these days.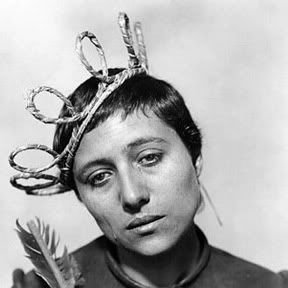 6.
From Latin America/Brazil:
City of God.

GEEZE LOUISE. This movie was one of my favorites of the semester, but it was extremely intense and very heartbreaking. City of God was directed by 
Fernando Meirelles
 and 
Kátia Lund
, and confronted the realities of 
poverty, the drug empire, and bloody violence in Brazil. Set in the 60's-80's, it depicted the 
the growth of organized crime in the 
Rio de Janeiro
 suburb of 
Cidade de Deus.
 To see the struggle of people stuck in this life of crime, drugs, and war, and their inability to rise above it, (even the ones who dreamed and desired to be free of it), was haunting. 
"Fight and you'll never survive..... Run and you'll never escape." 
It wasn't easy to watch, but it was very eye opening and made me beyond thankful to live where I live, to be free, and to be as blessed as I am!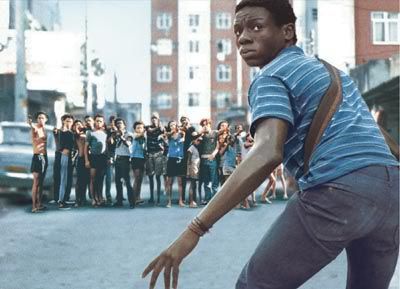 7. From Japan:
Ugetsu Monogatari
. This was my 2nd least favorite of the semester. To sum it up, it was a weirrrrd, creepy Japanese ghost story. Set in 16th Century Japan this movie was directed by 
Kenji Mizoguchi in 1953. 
Ugetsu Monogatari, translated as "
Tales of the Moon and Rain" is regarded as a masterpiece of Japanese cinema, but it kind of just creeped me out. It is the story of two peasant couples who set off on a journey to better their lives and earn money in another town. Everything goes downhill when one man runs off to become a samurai warrior and later finds out that while he was gone, his wife has become a prostitute so that they do not lose all their money. The other husband, is seduced by a ghost who convinces him to marry her after she pretends to be impressed by his pottery. He abandons his son and wife to be with this ghost mistress, but then realizes that he should be at home with his family. A whole bunch of creepiness ensues, and when he finally journeys home, he finds out that his wife has died in his absence, but she visits him and their son as a spirit and is "always with them." So, I wasn't a huge fan of the story, BUT the filming style was wonderful, and I appreciated the culture and history behind the movie.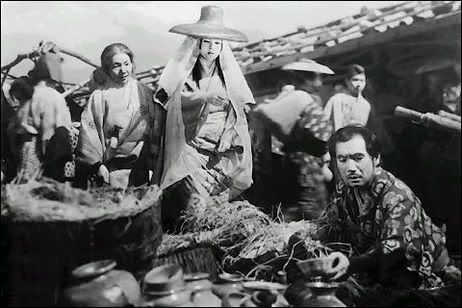 8. From China:
Raise the Red Lantern.
WOW. another sad movie. Every once & awhile, I enjoy a happy ending with a little closure, and this film, didn't deliver that for me! This bizarre movie was filmed in 1991, and 
directed by 
Zhang Yimou
 and starred 
Gong Li
. Set in the 1920's of the Chinese Warlord Era, a young woman becomes the fourth wife, a concubine, of a wealthy man. The four wives are in a constant competition for the husband's attention and affection, vying for his love. Each night the husband chooses which wife he will spend the night with by lighting bright red lanterns; the wife of his choosing receives a foot massage, chooses the menu at mealtime, and gets the most attention and respect from the servants. The main character, Songlian, realizes that she is happier in solitude and that the women are merely like robes that the husband can wear or get rid of whenever he chooses. The film is teeming with lies, deceit, drama, and death, and eventually leaves Songlian suicidal, emotionally traumatized and insane. The idea of women living this way, is sickening, but the movie was super interesting and the colors and visual scenery are beautiful and vivid.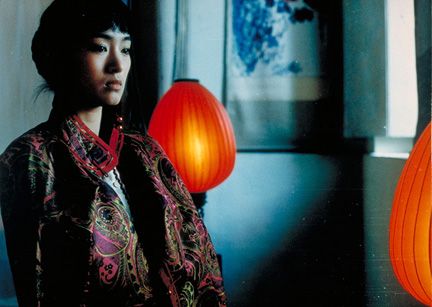 9. From Denmark:
Dancer in the Dark
. I wrote my final paper about the Danish director Lars Von Trier, an extremely experimental filmmaker, and watched this movie so I could analyze it in my research. It is a quirky, fun, colorful, tinged with darkness drama/musical film.
Icelandic singer 
Björk
 is t
he star; she is incredible and delivers quite the dramatic, emotional performance. I kind of felt like i was punched in the stomach by the end of the film, but I loved it anyway. Filmed in 2000, this movie tells the story of a Czech immigrant, 
Selma Ježková, with a degenerative eye disease that will eventually cause her to go blind. She works in a factory and saves all the money she earns in a tin can. She vows to use this money towards an operation on her son Gene's eyes so that he will not have to suffer the same fate as his mother. Selma is in love with musicals. She often slips into daydreams throughout the movie, and all of the people and circumstances around her transform the scene into an elaborate musical number, filled with dancing and singing. The film turns tragic after misconceptions, secrets, and murder thread their way into the plot. The music stirred my soul and the scintillating scenery graced my eyes as the story unfurled and left me in tears, with a wrecked heart.