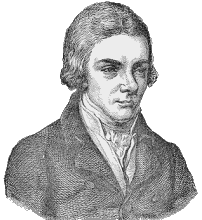 So basically... i'm pretty much going to copy & paste my craaaazyyy Xanga posts here. Why? because xanga is my first love, okay??
My hero of the month award definitely goes to
William Wilberforce
(1759 - 1833). He fought for the abolition of the slave trade for eighteen years & despite conflict, hatred, and rejection he did not give up until the buying and selling of slaves was illegal in the West Indies. Even though his efforts proved victorious, he was not finished... He began to work for the abolition of slavery itself. Three days before he died in 1833, he heard that the House of Commons had passed the law which emancipated all the slaves in Britain's colonies. Later, through the influence of his crusade against slavery in England, America would also free her slaves. He was also instrumental in opening up India to Christian missionaries and worked in founding the British and Foreign Bible Society. His list of accomplishments is almost neverending. He was a phenomenal man who deserves far more recognition than he gets! Go see the movie Amazing Grace. Okay. Cool.
Cheers to anyone who stands up for their fellow humans. We are such wretched beings, yet we are given second chances all the time. I want to be a dreamer. I want to be a fighter. I want to be different amongst a sea of sameness.
to redeem it.
__________________________________________________________________
March 25th 2007.
the bicentenary of the abolition of the transatlantic slave trade.
Break the spell of the typical,